Rolliner 3G - up to 1,6 mm wire diameter and no tools needed for assembling
Rolliner 3G is the continuation of the roll-guided wire feed hose, which has been successful for 10 years, with significant improvements. The individual elements contain a pair of rollers and are connected to one another via joints. Each element is turned by 90 ° to the adjacent element, whereby the welding wire is guided entirely by rollers. As a result, the friction is significantly reduced in comparison to conventional wire guide hoses. Between the individual pairs of rollers there is a conical guide, which during threading leads the wire to the next pair of rollers, thus ensuring trouble-free threading over narrow radii.
Due to its low friction, Rolliner 3G allows significantly longer wire runs between the pay-off pack and the wire feeder. In many cases it is possible to avoid additional drives.
Rolliner 3G is not a wearing part and is maintenance-free for several years. The welding process becomes more stable as less slippage occurs due to the low forces in the wire transport system.
Rolliner 3G can be shortened or extended without tools. For shorting the use of a separation tool is recommended.
Rolliner 3G
Effortless threading by means of a patented, conical guide of the wire from roller pair to roller pair!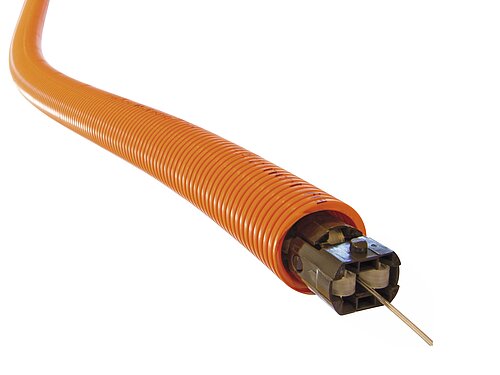 | | |
| --- | --- |
| Length | Any - maximum length of conduit 25 m, can be extended with hose connector |
| Outside diameter | 28,5 mm |
| Bending radius | Minimum 70 mm at wire threading and during operation |
| Maximum wire diameter | 1,6 mm |
| Conveyable alloys | All material types can be transported by Rolliner 3G (round wires), ie steel, stainless steel, aluminum, copper, etc. |
| Maximum wire feed speed | 30 meters per minute |
| Weight per meter | 200 grams |
| Wire temperature | Maximum 40° Celsius |
| Coefficient of friction | 0,08 |
The inlets and outlets of the Rolliner 3G have a 1/4 "internal thread and a 1/2" external thread. As a result, the CRNG20 or CRNG40 quick couplings can be used.
Wire end controls, drum connectors and decoiling aids can be easily used.
Insert elements into protective hose
Insert the holding clips at the inlet and outlet
Connect the wire inlet and outlet
When inserting the housings into the protective sleeve, observe the directional arrows printed on the housings.
| Designation | Item number | Weight [kg] | Qty in stock |
| --- | --- | --- | --- |
| Connector conduit PA12 Rolliner 3G | 10,20,2,0004 | 0.04 | 21 |
| Connector wire inlet Rolliner 3G with retaining clip | 10,30,3,0001 | 0.05 | 239 |
| Connector wire outlet Rolliner 3G with retaining clip | 10,30,3,0002 | 0.05 | 209 |
| Retaining clip Rolliner 3G | 10,30,3,0003 | 0.04 | 55 |
| Rolliner 3G with conduit PA12 | 10,30,3,0100 | 0.2 | 200 |
| Rolliner 3G without conduit | 10,30,3,0150 | 0.2 | 946 |
| Parting tool Rolliner 3G | 10,40,2,0001 | 0.05 | 0 |